Most people arranging a funeral face a simple choice – burial or cremation. But a third option is now available… dissolving bodies in an alkaline solution.
Could it catch on?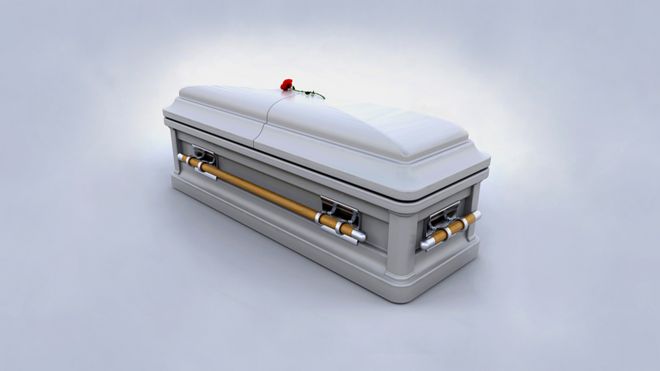 For decades, most people arranging a funeral have faced a simple choice – burial or cremation?
But in parts of the US and Canada a third option is now available – dissolving bodies in an alkaline solution.
It will arrive in the UK soon.
Its technical name is alkaline hydrolysis, but it is being marketed as "green cremation".
Robert J Klink spent his life near water.
When he was growing up in the 1950s, his parents had a cabin on South Long Lake, in Minnesota, the land of 10,000 lakes. He learned to fish and hunt near the water's edge.
It became a lifelong passion, and for many years he and his second wife Judi Olmsted kept a couple of cabin cruisers on the Saint Croix River. Bob would fish and shoot ducks, which he prepared and ate by himself.
Shortly before Bob's death in March from colon and liver cancer, Olmsted approached her local funeral home, Bradshaw Celebration of Life Center in Stillwater.
She told the people there that her husband wanted to be cremated when his time came.
She was surprised to learn that Bradshaw's offered two types of cremation: the one that everyone knows about, involving fire, and a new kind, which uses water.
A pamphlet explained that this "gentle, eco-friendly alternative to flame-based cremation" used an alkaline solution made with potassium hydroxide to reduce the body to a skeleton.
"At first, I was thinking, 'Well, I don't know about that,'" Olmsted says.
When we are buried, we ask our planet for resources a final time – wood for a coffin, cotton for the lining, stone for a monument.
In the US, graves are usually either lined with concrete or the coffin is placed in a metal or concrete vault which will not decompose.
But cremation has an environmental cost too. To burn a single body, a cremator machine generates enough heat to warm a home in winter for a week, even in freezing Minnesota.
Bradshaw's are one of just 14 funeral homes in the world to offer this "green" option. Alkaline hydrolysis is said to be much more environmentally friendly than conventional cremation.
They offer both services at the same price and say the new kind of cremation has proved an unexpected hit.
Of their customers who choose not to be buried – about half of the total – 80% opt for alkaline hydrolysis.
But environmental benefits may not the only factors influencing their decision.
In choosing green cremation Judi Olmsted was mindful of Bob's lifelong love of water and she perceived, in the water-based method, an echo of childhood baptism, which she found touching.
Robert's memorial is held on the outskirts of St Paul, Minnesota, in St Andrew's, the light-filled Lutheran church the couple attended for years.
The urn containing his powdered bones sits on a table next to flowers, photos and a wooden duck.
The service opens with Amazing Grace and closes with How Great Thou Art.
Afterwards, I ask one of Bradshaw's funeral directors, Anne Christ, what reasons other people give for choosing alkaline hydrolysis.
"There are some folks that we deal with that are very scientifically-minded and of course, interested in that environmental piece," she says.
"But really it's more about their emotions at that point. I would say most of the people make that decision on a gut feeling about water being gentle."
Is dissolving a body in chemicals really gentler than burning it?
Do people think about what goes on in alkaline hydrolysis?
"There's a certain amount they don't want to know," she chuckles.
Bradshaw Celebration of Life Center is a long bungalow, surrounded by meadows and groves of slender trees.
Described as "prairie-style", the building was designed by a former student of Frank Lloyd Wright.
The alkaline hydrolysis machine is located in the basement. It was installed five years ago at a cost – together with the viewing rooms – of about $750,000 (£580,000).
"We could have done it for less," says Jason Bradshaw, who manages the centre.
Jason Bradshaw
"We just felt being that we were the first in this area – and one of the first in the country – we needed to put in that larger investment.
"Because we have tour groups that come through all the time, we have hospice, we have church groups. We have people who just want to see it, because it's so new."
He leads me down to the basement and into a circular room with a tinkling waterfall.
The ochre-coloured wall contains a floor-to-ceiling window looking on to a another room, with wooden sliding doors on the other side of the glass.
Jason disappears, switches on the lights in the next room, and pulls open the doors.
And there is the alkaline hydrolysis machine – a rectangular steel box, 6ft high, 4ft wide, and 10ft deep.
It has a huge circular door covering almost its entire width, that wouldn't look out of place on a bank vault or submarine.
(In fact, the same doors are used on submarines, although the manufacturer points out a crucial difference – submarine hatches are designed to open from the inside too.)
The industrial appearance of the machine jars with the sombre intensity of the viewing room.
I wonder what sort of person would choose to watch their relative or friend being placed into this machine, which is known as a "tissue digester".
I watch Jason and his colleague, David Haroldsen, wheel a corpse through the door.
The body is not identified to me and is completely covered by a black woollen cloth, which Jason and David, wearing blue surgical gloves, delicately tuck into the edges of a steel tray.
Then they open the big door, raise the tray to the level of the black cavity inside the machine, and slide it in.
the door unlocks and the funeral director sees wet bones scattered across the metal tray, together with any medical implants the dead person had in their body.
Metal hip and knee joints come out in perfect condition.
The manufacturers of the tissue digester have even proposed that, when more machines are in service, they could be collected and donated to the developing world.
By the end, all tissue has dissolved into the solution, which has drained into a separate tank, hidden from view.
"It resembles either a tea or an ale," says Jason.
"You can actually see through it – and is really made up of salts and sugars. It has a bit of a soapy smell, which is not off-putting, but it is distinct."
The room in which the machine stands has a smell similar to a dry cleaner's.
The pH level of the effluent is tested, and if necessary adjusted. Then the liquid is released down the drain.
It is sterile mix of amino acids and peptides, with no human DNA.
Nevertheless, this disposal of dissolved tissue as a waste by-product, and its progress through the water treatment system, is the part of alkaline hydrolysis that troubles people the most.
Bradshaw's dry the bones – either slowly, in a special cabinet – or quickly, in a tray placed inside a domestic tumble drier.
"It works the best," says David, with a shrug.
Then they are put through a machine called a cremulator, which pulverises them into a coarse powder.
This is exactly the same machine that is used after a regular cremation, and as with a regular cremation, the word "ashes" is a misnomer.
The difference is that the resulting powder is finer and whiter, closely resembling flour – and there is about 30% more of it.
So far, the Bradshaw's tissue digester has processed about 1,100 bodies, roughly one every day.
It was manufactured in the UK by a company called Resomation Ltd, which plans to install an identical machine in Sandwell, near Birmingham in the British midlands, at the end of this year.
Sometimes families want to help operate the tissue digester, Jason says.
"And some people would look at that and say, 'Why would you ever want to be involved with that?' Other people would say: 'That was the last thing I could do for my mum or my dad.'
"I've been here when we've had three siblings, all standing next to the machine, and together they have all pressed the button to start it.
"And I kind of think of it like, if we're standing at that cemetery and everybody's going to take that first scoop of earth and place it into the grave – it's sort of that moment of letting go."
Around the world, 150,000 people die every day, and the number is rising as the world's population increases.
Today there are 7.5 billion of us on Earth, but by the end of the century it's thought there will be more than 11 billion.
In some countries, space for graves is running out. In the UK, it is estimated that half of cemeteries will be full in the next 20 years.
In parts of London, the council no longer offers a burial service, and the city has started re-using grave space, lowering bodies further into the ground and placing new ones on top.
The use of land for burial – and the constant upkeep of that land – has an environmental impact. Burial also typically calls for natural resources.
Campaigners say that in the US vaults for coffins use up more than 1.6m tons of concrete and 14,000 tons of steel every year.
As for cremation, it has been estimated that a typical cremation has a footprint equivalent to about 320kg of carbon dioxide.
Unless special measures are taken, dangerous toxins are released too, in particular mercury from dental fillings. This mercury returns to earth in rain and accumulates in the aquatic food chain.
How does alkaline hydrolysis compare, from an environmental point of view?
According to Dutch researcher Elisabeth Keijzer, who has carried out two studies for the Netherlands Organisation for Applied Research (work commissioned by a funeral chain, Yarden) it's much better.
Her two reports published in 2011 and 2014 make for fascinating if macabre reading.
She breaks down burial, cremation and alkaline hydrolysis into dozens of steps, which she assesses against 18 environmental impact yardsticks – such as ozone depletion, marine eco-toxicity and climate change.
In 17 of these categories alkaline hydrolysis comes out best. Cremation is worst in the most categories (10), but burial is deemed to have the highest overall environmental impact.
Alkaline hydrolysis is found to result in the emission of seven times less CO2 than cremation.
To summarise the results, Keijzer and her fellow researchers calculated a "shadow price" for each method – the lowest amount of money it would theoretically cost to either compensate for the environmental impact, or avert it.
For burial, the net cost was 63.66 euros per body. For cremation, it was 48.47 euros. For alkaline hydrolysis, just 2.59 euros.
While Keijzer's work gives a more resounding endorsement of alkaline hydrolysis's eco-credentials than some previous studies, it makes assumptions about burial and cremation that do not hold for every country in the world.
There is little mention of the mercury pollution caused by cremation, because in the Netherlands this is routinely captured using expensive filtering equipment – yet this does not happen in North America.
On the other hand, the report assumes that a cremation involves burning a body in a coffin, which is routine in the Netherlands and the UK, but not in the US.
In some states – including Minnesota – a casket is rented to display a body before it is sent for cremation, which is standard practice with alkaline hydrolysis.
This is significant because a full 28.89 euros of cremation's shadow price is the environmental cost of the coffin (and surprisingly, of that 21 euros is just the cotton lining).
Keijzer doesn't measure the environmental impact of natural burial, where a body is wrapped in a cloth and buried without a headstone.
There are other caveats too.
When you look at a person's carbon footprint over their lifetime, the disposal of the body accounts for only a tiny fraction – between 10 and 30 thousandths, according to Keijzer.
She has also calculated that the funeral ceremony itself – all the mourners travelling to the service, all the cut flowers and so on – has an impact on the environment roughly three times greater than the impact of the burial or cremation.
But that said, Keijzer's work does suggest that "green cremation" may really be greener than the most common alternatives.
In 2001, British news broadcasts were filled with disturbing footage of cows being led to slaughter, piled up and burned.
It was the country's worst recorded outbreak of foot and mouth disease – and inconveniently it came before British herds had been fully recovered from an earlier epidemic of mad cow disease (BSE).
It was estimated that up to 2% of the cattle burned were infected with BSE, and burning them in open fields was potentially dangerous.
Sandy Sullivan
"Ideally you would burn them in an incinerator, which is a controlled environment, but because of the vast quantity of cattle they were burning them in fields," says the biochemist Sandy Sullivan.
"And that actually has the potential of spreading BSE because of particles going up in the atmosphere."
Sullivan spent five years lobbying the EU to allow a process that would completely sterilise infected carcasses.
The company he worked for, WR2, had patented an alkaline hydrolysis tissue digester, and was already using it to destroy the remains of animals from research laboratories.
In the end, alkaline hydrolysis was not used to dissolve Europe's BSE-infected cattle, though it was used in the US to dispose of elk and sheep infected with similar diseases.
Animal disposal in a tissue digester
The development that led to tissue digesters turning up in funeral parlours came a couple of years later, when Dean Fisher, director of anatomical donations at the world-renowned Mayo Clinic in Minnesota, started exploring the idea of using alkaline hydrolysis to dispose of the clinic's cadavers.
He and a colleague got the chance to inspect a machine installed at a hospital in Florida, and were impressed with what they saw.
"We were like, 'Oh my God, look at that finished product!'" Fisher says, referring to the pure white bones that were left at the end of the process.
However, they felt that the top-loading machine, designed to process several bodies at once, was undignified.
"It closed like a clam and we didn't like that," Fisher recalls.
"We said, 'Can you turn that cylinder in the other direction? Can you place a basket or tray in it with little holes that can move the fluid around during the course of the cycle and afterwards all the bone and all the prosthetics and everything are sitting in the tray?' And that is what they designed for us."
The new digester was an early prototype for the machine at Bradshaw's in Stillwater, though it wasn't quite so easy to use. Before each process the operator had to tighten 11 bolts on the door with a spanner, like a mechanic replacing a bus wheel.
But Sullivan saw the potential for the technology to be used commercially in funeral parlours.
Sandy Sullivan with a resomation machine
After WR2 went bust in 2006 he formed a new company, Resomation Ltd, while his former CEO at WR2, Joe Wilson, formed another company, Bio-Response Solutions – and the two became the Pepsi and Coke of alkaline hydrolysis.
The last decade has been a challenging one for both men.
"It's a conservative market," says Sullivan. "When you come in with a new idea, you know, it kind of puts the cat among the pigeons and you're not easily accepted."
It was the same for the pioneers of cremation, in the late 19th Century.
In the UK, when the Cremation Society built a crematorium in Woking in 1879, the townspeople protested – leading the home secretary to ban the practice until Parliament approved the idea, and introduced legislation to govern it.
Working Crematorium, Surrey, UK
As it turned out, the advocates of cremation did not have to wait that long.
In 1884, a well-known Welsh eccentric and self-styled druid, William Price, attempted to cremate his infant son's dead body on a hilltop in Llantrisant.
He was arrested, but at his trial he argued that no laws stated cremation was illegal – and the judge agreed.
Price was acquitted and Woking crematorium began operations the following year, without waiting for regulation.
William Price
Several more crematoria were built in the UK before the Cremation Act was passed in 1902. It then took decades for the practice to become completely accepted.
It was only in the late 1960s that cremations outnumbered burials, and today there are three cremations for every one burial.
In the US, the process has been much slower. Over the past few years cremation has gradually been reaching parity with burial, and may now have overtaken it.
The regulatory vacuum that once surrounded cremation in the UK is now repeated with regard to alkaline hydrolysis.
"It's a Catch-22," says Sullivan. "We've been waiting for them to pass a law to regulate it, but it's not going to happen. So we're going to install one and force them to pass primary legislation to allow us to be regulated – because we want to be regulated."
Planning permission has been granted for a Resomation machine to be fitted at Rowley Regis Crematorium in Sandwell in the West Midlands, though the water authority has yet to issue a permit for the effluent to be drained into the sewer. Sullivan says he does not expect a problem.
The cost of such a machine is equivalent to, or slightly less than, the cost of filtration equipment that crematoria in the UK have fitted to capture mercury emissions.
Touch screen on a resomation machine
But Harvey Thomas, chairman of the Cremation Society and chairman of the board that owns Woking Crematorium, says the business case is not sewn up.
If the people who might choose alkaline hydrolysis are the people who would otherwise have chosen cremation, there is no commercial benefit for the crematorium, he points out.
"Commercially, all you are doing is losing one procedure and switching it to another. Whereas, in order to be commercially profitable, you would have to have people who were previously going to be buried deciding to do Resomation."
He also notes that it only takes an hour to incinerate a body in a cremator, while Sullivan's machine, the fastest on the market, takes three or four times that long to digest a body. So the potential income per day is lower.
If North America has been slower than the UK to warm to cremation, it is well ahead with alkaline hydrolysis.
It has been approved in three Canadian provinces (accounting for two-thirds of the population) and 14 US states, with a further five states mulling legislation at the moment.
It has been an uphill struggle though.
A state's funeral rules are written into law by the local Board of Funeral Directors and Embalmers.
Too often, Bio-Response's Joe Wilson says, they are a "good ol' boy" network that sees no value in challenging their successful business models.
And in at least four states, the Catholic Church has played a critical role in blocking alkaline hydrolysis.
So reads a letter from the Catholic Conference of Ohio to the state legislature in 2012.
The previous year, the California Catholic Conference had written:
"As Catholics we believe that the human body, once alive and animated by an immortal soul, possesses a moral dignity which must be honoured."
Similar letters were sent by the Church to lawmakers in New York and New Hampshire, and partly because of these interventions, alkaline hydrolysis is not currently legal in any of these states.
It's not just the Catholic Church that takes this view.
The tipping away of the tea-coloured effluent troubles some people, whether they are Catholic or not.
"That creeps them out," Philip Olson, a philosopher at Virginia Tech who has charted the rise of alkaline hydrolysis.
But Olson, who once worked as an embalming assistant, points out that in the traditional processes of burial, cremation and embalming a distinction is made between funeral "product" – for example, the ashes – and "waste".
"If you look at the process of embalming, all of the blood that is drained from the body and the viscera that are extracted through the aspiration of the body cavity are sent down the drain as well," he says.
And unlike the effluent from alkaline hydrolysis, these blood and guts contain human DNA.
Within the Catholic community, the ethicist Sister Renee Mirkes makes a similar point.
"The flashpoint of indignity with alkaline hydrolysis – specifically, pouring the liquid remains down the drain – is found in a similar form in the seepage after burial and in cremation through rain," she wrote in the National Bioethics Quarterly in 2008, referring to the process whereby smoke from a cremation ultimately falls back to Earth, sometimes in raindrops that are washed into drains.
In her article Mirkes notes that cremation was in effect prohibited in the Catholic Church until 1963, when Pope Paul VI ruled that while burial remained the preferred method for disposing of bodies, cremation was not intrinsically evil and the faithful were free to choose it when necessity dictated.
She argues that the Church's position on cremation should apply to green cremation too, although she suggests it should be left to bishops to advise the faithful in their dioceses.
One reason attitudes to alkaline hydrolysis vary, Philip Olson says, is that people have different concepts of the corpse.
For some, the dead body is primarily a sacred object, while for others it is something dangerous, to be sealed away underground within layers of steel and concrete.
Body in an alkaline hydrolysis machine
The real fans of alkaline hydrolysis are those in the "eco-death" movement, he says, who see the body as a potential source of nourishment for plants and animals.
The unloved effluent makes very good fertiliser – Joe Wilson says that some of his veterinary customers spray it on their lawns.
Even when the tea-coloured liquid goes to the drain, it serves a useful purpose – it reportedly helps feed the bacteria in water treatment plants.
This is not an aspect of alkaline hydrolysis that you are likely to see in any promotional materials.
When legislation on alkaline hydrolysis was drafted in New York, a few commentators drew a link with the 1973 dystopian movie Soylent Green, which imagines an America of the future in which dead bodies are recycled into high-energy green biscuits.
Others dubbed the legislation, which failed, "Hannibal Lecter's Bill", a reference to a series of novels by Thomas Harris, about a serial killer who ate his victims.
Some funeral parlours that offer the service keep quiet about it, for fear of upsetting the community.
But market research has found that while a minority will always find the idea of alkaline hydrolysis unpleasant, if it is marketed in the right way – perhaps as green cremation, bio-cremation or water cremation – a section of the public can see its benefits.
Barbara Kemmis, the executive director of CANA, the Cremation Association of North America, relates a conversation about alkaline hydrolysis with two delegates at the recent International Cemetery, Cremation and Funeral Association Convention in Nashville.
"This person was just so disgusted by it, didn't even want to have the conversation," she recalls, "and the other person was like, 'For me, that's like a final spa treatment.'
"I'd never heard that before, but I thought, 'OK!'
Jason Bradshaw's 73-year-old father Jim has seen many changes in his business over the years – not only the rise of cremation, and the arrival of alkaline hydrolysis, which has proved so popular at the Bradshaw Celebration of Life Center.
Jim Bradshaw
Fifty years ago people came in to visit with you and they'd say, 'At my church we do it this way,'" he recalls.
"People come in today, and they say, 'Well, we're not sure what we're going to do. We might have it at a local bar. We might have it in a park. Well, I don't know – maybe we'll have it in the church, and by the way, will they let us serve liquor?'"
Surprisingly, he hasn't made a final decision about what will happen to his own body after he dies.
He doesn't much like the idea of flame cremation, but he's not sure about green cremation either.
It's seriously tempting, he says, to instruct the firm to bury him in a casket that has been kicking around the storeroom for a long time – "it's one way to get rid of it."
But at the moment, he likes the idea of a natural burial best – no casket, no steel or concrete-lined vault, just a blanket around him to keep him warm.
 Source: The BBC