By Dr Paul John ,mazipauljohn@gmail.com,08083658038          
Few days ago I was in a flight from Abuja to Port Harcourt and in our about 45-minutes' journey I eavesdropped the conversation between two supposedly JOHESU leaders. The conversation went this way:
Mr A : This strike seems to be our worst strike ever.
Mr B: Why did you say so?
Mr A: How could we simply go on strike with numerous demands with none achieved and our national leaders were at the brink of being arrested for flouting two different court orders and our colleagues nationwide at the verge of being sacked, and you asked me why did I ask my the question.
Mr B: Did you initially believe that those demands would be granted in the first place ?
Mr A: What do you mean? Every Union goes into strike to press home her demands with a view to getting them .
At this time, Mr B who was casually dressed with a Niger-delta  cap to match lowered his voice after looking around to be sure none of the passengers  was interested in the discussion. Trust me, I pretended as if I were reading a souvenir in front of my seat  , which was provided to all passengers by the airline operators . At this almost inaudible voice Mr B told Mr A that one of their national leaders had confided in him that the strike would help some of their national leaders achieve two things: an opportunity for outgoing leaders to meet and exchange contacts with the Nigerian political leaders at the national level in order to further their political ambitions outside the profession come 2019.  Secondly, it was to ensure that members, especially the leaders, who had used their annual leave for the year to be able to have time to sort themselves out as it would be almost impossible for them to apply for another leave for the year .
After this revelation, there was a long silence; Mr A now looking bewildered after it dawned on him that he was involved in a fight he never knew the real reason. At this point, I childishly burst into an uncontrollable laughter.While breaking the long silence,  Mr A said, 'so you mean…… ? Mr B did not allow him finish his sentence and interjected, 'comrade let us drop this matter until we land(sic) at the airport.' At this point I felt too bad for behaving like a child but I decided not to blame myself anymore because I was as bewildered as Mr A because I never believed that leaders could be this callous and selfish to their members ; dragging their members into a fight that would cost their members their two months'salaries while the leaders would reap the benefits of such strike.
I should have at least endured the laughter while the conversation lasted. However, the world can see how selfish these leaders were, going into strike for their personal businesses while their  innocent members were subjected to the Federal government's  'No work, no pay'' rule .They use the money contributed by their subjects to fight for their own personal ambitions. The second point given by Mr B really took me aback. A union leader who has made use of his annual leave but urgently needs another leave can easily call for a strike in order to have time to sort out his personal business knowing very well that the management of the hospital would not grant him another leave.
These union leaders get their salaries along with the allowances they get from the treasury of the union(s). They fly round the country and stay at the choicest hotels in Abuja why telling their subjects to fight on that victory is very near. Innocent and naive subjects will take to the social media platforms to abuse medical doctors they will be working with on daily basis in our hospitals . This reminds me of Adolf Hitler who always tells his soldiers, ''You are the best, fight on victory is very near'' only for him to disappear when he lost the battle.
Before eavesdropping the above conversation, I had been wondering why JOHESU leaders were more interested in their meeting with the Senate president who is also a medical doctor like Prof Adewole they are abusing calling him minister of doctors and calling for his sack. Why were they more interested in meeting with the president of the Federal Republic of Nigeria when at least ''common sense'' should have told them that Mr President might have read or watched the news through the mass media as their strike is a nationwide matter? Watch out how these so-called leaders will vie for different positions in 2019 general elections.
One may think that JOHESU leaders have outsmarted only their subjects; they have also done that to others . I was happy how my colleagues in all the hospitals rose up to the challenges JOHESU strike might have created and ensured that there was no lacuna in service delivery to our patients in all hospitals across the federation. I was elated when I saw pictures of major surgeries like Open Heart surgeries done in many hospitals across the country during the strike. The prompt treatment of UBTH JOHESU workers involved in an accident near Irrua Edo state , is still fresh in our memory.
Triple bypass surgery that took place on May 30th 2018 at AKTH ,Kano while JOHESU was on strike.
Although the ungrateful JOHESU leaders have come out to deny the accident victims the same way they will deny other non-health workers in their amorphous union soon after using them to achieve their inordinate demands . I was recently chatting with one Chief Medical Director of a hospital, he confided in me that his hospital relatively makes more money through the Internally Generated Revenue (IGR) during the strike than before the strike.
The surgery team at AKTH Kano without any JOHESU member
I was somewhat confused he went further to explain that at least now the doctors were the ones collecting and paying the money to the designated hospital account and every doctor knows what rules 52  and  59 of the Codes of Medical Ethics in Nigeria (COME) say about Decency and Decorum in professional transactions ; and conviction of  medical practitioner of criminal offences by a court of competent jurisdiction, respectively . I call on anti-graft agencies to beam their searchlights in our hospitals' accounting units.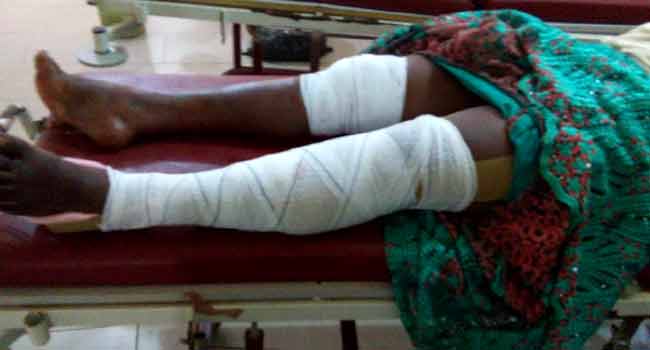 One of the accident victims that was finally denied by JOHESU leaders
Many hospitals that use online payment system will always be having network issues and the system will always be 'down' the same way some cabals in NEPA ( Sorry, Power Holding Company; sorry again, Electricity Distribution Company) will always sabotage any move that will ensure that all customers have prepaid meters that will guide against Estimated billing system. Why should a hospital make more money when JOHESU is on strike? I am sure that anybody in the account unit can print the receipts of any hospital, collecting the money cash and channeling the said money into his pockets while issuing his own receipts.
What do the doctors know outside their work? You will see an accountant in our hospital who earns lower that the doctor legitimately but having more achievements than same doctor he/she got employed at same time. That is what my people call ''Ego Mbute"', while the doctor depends on his monthly salaries, these fellows have multiple sources of incomes. In 2010 I visited my friend (a non-doctor) working in one of the General hospitals in Abuja. On a Monday morning I was expecting her to go to work but she told me that she was posted out of Accident and Emergency (A & E) unit but she assured me that she would not resume work until she was re-posted to the A & E unit that she had done the needful only waiting for her to be re-posted to her base.
I decided not to probe further. It took me years to know why non-doctors in our hospitals were ready to pay through their nose to remain in A & E units.  My dear, that is where the 'money-making machine' of the hospital is. What is special in our A & E units? As the name sounds, that is where emergency cases are managed in our hospitals  ,as bewildered relatives rush in their patients  to the units they are ready to do whatever they are told without questioning. All they want is to save the lives of their sick relatives. The doctors will see the patients and write prescriptions , these guys working with the doctors know the common medications used in A & E units, they have their own, no wise patient relative will agree under emergency situations  to pass the rigorous routine of going to the hospital pharmacy to first cost the prescriptions ( with some of the drugs not in the pharmacy,evidence of poor leadership qualities by the professionals who man the hospital pharmacies ) ,then going to the pay-points to queue up to pay and finally go back to the pharmacy to wait for their turn before they are attended to while their sick relatives are at the point of death.
These guys in the A& E units will call the patients' relatives and sell their own drugs and other hospital consumables at exorbitant prices. The daredevil ones will sell the free Emergency drugs and Hospital Consumables that the hospitals provide for immediate treatment of A & E patients. In all this transaction, payment is cash hence it is not accountable to anybody. I once again invite the anti-graft agencies to contact me for more information on this and how to nab these fellows. We talk of corruption in Nigeria, I am sure that our hospitals' A & E units and accounting sections may contribute greater per cent to the overall corruption index in Nigeria. The patients whose cases end at the level of the A & E without having to be admitted in our wards or be seen at the clinic ,their payments again will not be accountable. Let the MD or CMD talk, they will shut down the hospital or go to court to tell the world that doctors don't want their progress.
Lack of Job satisfaction.
Why should a JOHESU member  parade himself as a doctor knowing very well that doctor in the sector metonymically means a medical doctor. If I go to an engineering company and request for  a cell, they know I mean a voltaic/Galvanic cell but when I go to the police station and request to see their cell, they know I mean where they keep suspects before granting them administrative bail or charge them to the law-court. If I now decide to go to a biology laboratory and say I want to see a cell, they know I mean animal or plant cell. If in my church I announce that those in medical cell group should see me after church service, they know what I mean.
We can see how the word ''cell''  changes its meaning  from one profession  to another. I am aware that a JOHESU member may have a PhD but what prevents him/herself from answering Nurse Onyemegbulam Catherine,PhD or Pharm Odinkemma Maduakor,PhD. Why does everybody in the health sector want to answer doctors? NUC of course is not aware of the ulterior motive behind the recent quests for DNursing ,Dmls ,Dpharm and D-whatever? NUC is gradually playing into their hands. I was in the office of my friend ,a medical laboratory scientist, another friend of his was addressing him as a medical doctor and he said nothing to rebuke the fellow,do you expect me to rebuke him myself to create more enmity in addition to the ones I create regularly through  many of my expository publications?
These guys parade themselves as doctors and treat patients when they do not have DMLS ,Dpharm, Dnursing et cetera, tell me how it will be when these 'D-programmes' recently approved by NUC start producing their graduates. I need not remind you that everybody in the hospital then from the gate-man upwards will be doctors then. I saw a sticker in the car of my friend, I AM PROUD TO BE A NURSE ,  I was very happy. No profession should be inferior to others and everybody in the health sector should know their job descriptions the same way air hostess should be called a air hostess and not a pilot. The nurses need to be reminded of  their Nightingale Pledge of 1893 thus:
I solemnly pledge myself before God and in the presence of this assembly, to pass my life in purity and to practise my profession faithfully. I will abstain from whatever is deleterious and mischievous, and will not take or knowingly administer any harmful drug. I will do all in my power to maintain and elevate the standard of my profession, and will hold in confidence all personal matters committed to my keeping, and all family affairs coming to my knowledge in the practice of my calling. With loyalty will I endeavour to aid the physician in his work, and devote myself to the welfare of those committed to my care.
The work of the nurse is to help the physician with the utmost loyalty not to rub shoulders with him or to refuse to carry out the instructions the doctor gives on the patients' case notes .The work of the medical laboratory scientists is to run the tests that the doctor requests for the patients and not for scientist without a clinical knowledge to consult as a consultant, order for medical tests, run the tests, interpret them and write prescriptions to the patients as seen in many private medical laboratory practices. I am also throwing the challenge to anybody that doubts this, contact me we will simulate a patient and you verify my assertions ,I know them one by one.
The same thing applies to other members of JOHESU who are interested in the title 'doctors'. They only need legal backing for the 'doctor' they have been answering all these years and NUC is playing into their hands.I may not blame those in authorities who grant some of these their desires ,how many of them patronize our public hospitals? Those who are not ready to travel abroad for medical tourism ,patronize our private hospitals where there is decency and job description is clear  .They go there to see the doctors and the doctor knows the other allied healthcare professionals that will be necessary for the management of the patients.
UNNECESSARY IMITATION
Aside wanting to be called doctors, they equally want to be called consultants just like doctors . They are no longer satisfied with titles like matrons, Director Nursing services, Chief Medical Laboratory scientists, Chief Radiographers, Chief Physiotherapists, Chief Security Officers, Chief Dieticians et cetera they want to be called consultants too. We ask them what do they want to consult? And how does such title they want help in improving the quality of services rendered to the patients?  Can somebody be called a poet if he does not write poems/poetry; how do they intend to become consultants without consulting for a day or having their own consulting rooms? To crown it all, Doctors have National Postgraduate Medical College of Nigeria and what we hear these days is a  bill for the establishment of National Postgraduate Physiotherapy  College of Nigeria; National Postgraduate Medical Laboratory Science College of Nigeria et cetera.
Why can't they have another name like Nigerian Postgraduate Medical Laboratory Science College or Nigerian Postgraduate Physiotherapy College? Why the imitation? The answer is simple, a JOHESU member from any of the proposed colleges will simply claim to be a fellow of the ''National Postgraduate College. '' That is enough to convince the patients that they are medical consultants. The patient may not ask the specific college. All they want is to be like the doctors .
The nurses went ahead to buttress this point as the doctors have West African college of Surgeons ( WACS) and physicians( WACP) ,the nurses went ahead to establish their own West African College of Nurses. A good analyst will ask why West Africa?  Are nurses found only in the West Africa? The ulterior motive is for them to answer fellow of the ''West African College'' that is enough to convince the patients that they are consultants like the doctors . Why can't Nurses go higher to have African College of Nurses at least to ensure that their certificates will have wider acceptability than WACP/WACS?
Should Nigerian doctors decide to answer MD instead of just doctors and to replace consultant with another title like attending physician/doctor, after some years these imitators will start clamouring for these titles. I must tell you that Nursing,Pharmacy,Medical laboratory sciences ,Radiography et cetera are noble professions and those who applied for the courses in good fate in their JAMB examinations are proud studying the courses in the tertiary institutions and they don't go about parading themselves as doctors . The noise we hear on daily basis is caused by those who sought to study Medicine through JAMB but failed or those who actually got admission to study medicine but failed out of the course along the way . I know many of them .
What they did not achieve through their brains ,they now want to achieve it through unionism . You may think that such nonsense is only in the health sector, those who could not pass ICAN examinations simply formed another body and of course they attack ICAN and her members.They  are there to tell you that ICAN as a body is useless because since they could not join them intellectually at least they can destroy ICAN through propaganda.
JUSTICE TO THE JUNIOR DOCTORS
As I visited our hospitals during the strike ,I saw where house officers took over the roles of nurses, I asked would these young doctors be paid for these additional services  or would they be cowed into total submission and be threatened with extension of their postings by their senior colleagues. I challenge NMA and relevant authorities to ensure justice is meted out to these junior doctors. I was surprised to see these house officers running shifts in all the wards ,taking over all the nursing care of the patients in accordance with the first  and fourth lines of the Physician's oath which state that : I solemnly pledge to consecrate my life to the service of humanity; The health of my patients will be my first consideration.
Since Federal government has maintained that JOHESU members who just suspended their strike would only be paid for the 17 days they worked in the month of April then the money recovered from this No work , no pay principle of the federal government should be added to the salaries of house officers who not only worked as doctors but also as nurses, cleaners, security men, porters et cetera during the 48-day strike embarked upon by JOHESU.
Prof Adewole said, "We are not paying them any arrears. We will only pay them for the 17 days they worked in April. However, any health official who worked during the strike would be paid in full. Some of them actually worked all through the strike."
In view of this, house officers should be paid for the additional services they rendered while the strike lasted.  They started these additional services from April 17th 2018 through the midnight of June 3rd 2018 as JOHESU workers commenced work on  June 4th 2018 after their ignominious national strike that ended up giving them more wounds that soothing the ones they alleged to have incurred. Simple calculation shows that these house officers have rendered these additional services for about 48 days and  according to civil service rule they are entitled to additional  two months salaries.