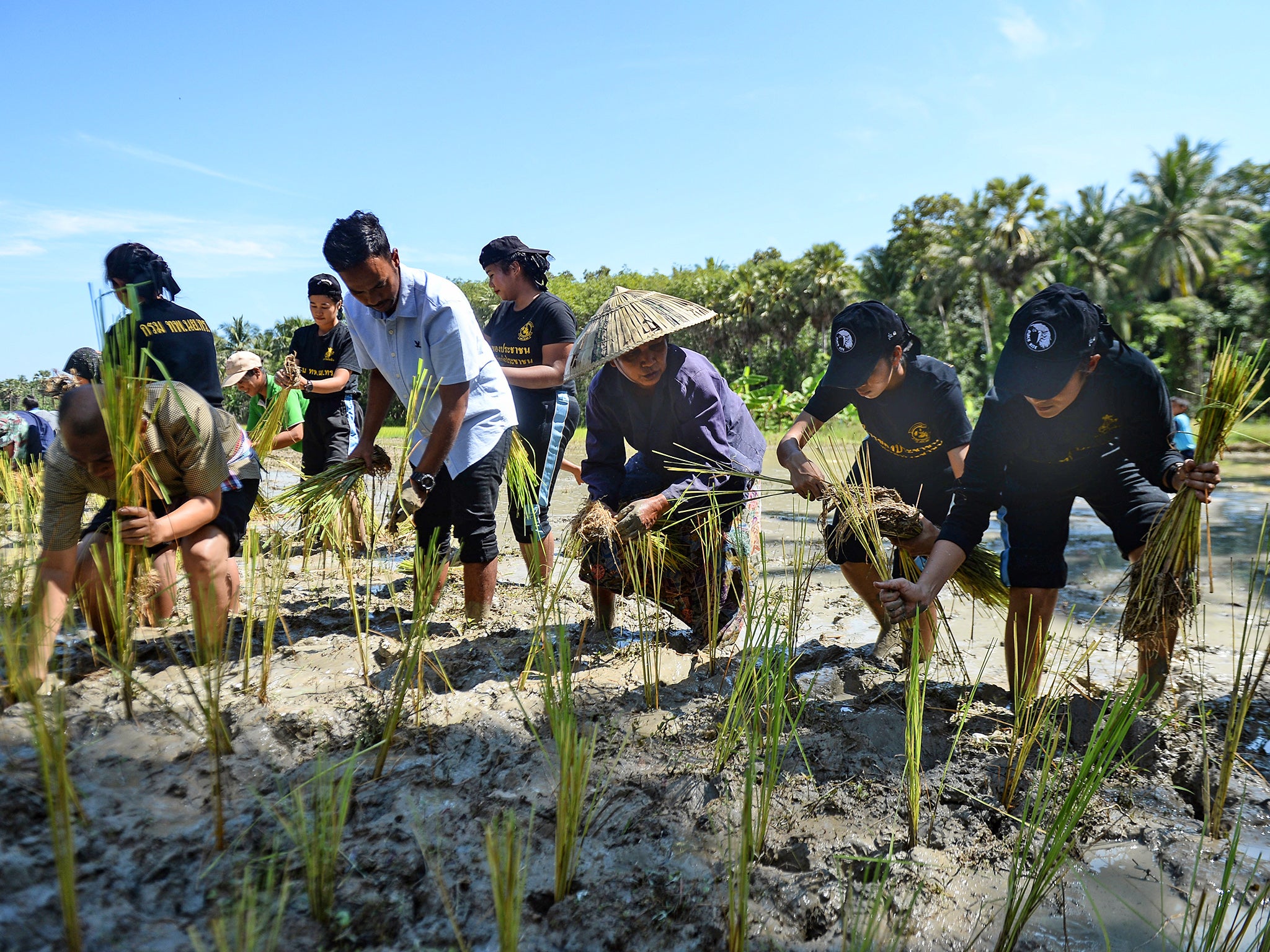 HOW RICE IS THE MOST IMPORTANT THING ON THE TABLE, AND NOT JUST IN ASIA
Grown on every continent in the world except for Antarctica, rice is more than a staple. It's life to millions and is the basis for practically every meal in many countries. But why doens't the UK have the same affinity to it, asks Julia Platt Leonard
In Thailand, you don't ask friends if they've had dinner yet. You ask, "Kin khao ayung?" Translated? Have you had rice yet? Food writer Kay Plunkett-Hogge, who was born and raised in Thailand, says it shows how critical rice is in Thai and South East Asian food and cooking. "It is the most important thing on the table," she says. "Every dish goes with it, not the other way around."
Thailand isn't alone in its love of rice. According to the International Rice Research Institute (IRRI), rice is a staple food for over half the world's population.
About 90 per cent of worldwide rice production comes from Asia – an area IRRI defines as reaching from Pakistan in the west to Japan in the east. While most rice is grown and eaten locally – never entering the export market – the volume of international trade has almost quadrupled since the 1960s, with Thailand, Vietnam and India leading exporters.
Food writer Yasmin Khan, author of The Saffron Tales, says her grandfather was a rice farmer and that rice plays a crucial role in Iranian cuisine. "In Iran, cooking rice is elevated to an art form and a cook is judged on the quality of his or her rice."
She says Iranians are fastidious about how rice is cooked – each grain should be elongated and separate. "Even to this day, the bit of my meal I get most nervous about when hosting a dinner is the rice!"
For her, a favourite rice dish is loobia polo – a layered rice dish with minced lamb, tomatoes, potatoes and green beans, spiced with cinnamon, turmeric and cumin. "It's my ultimate comfort food," she says.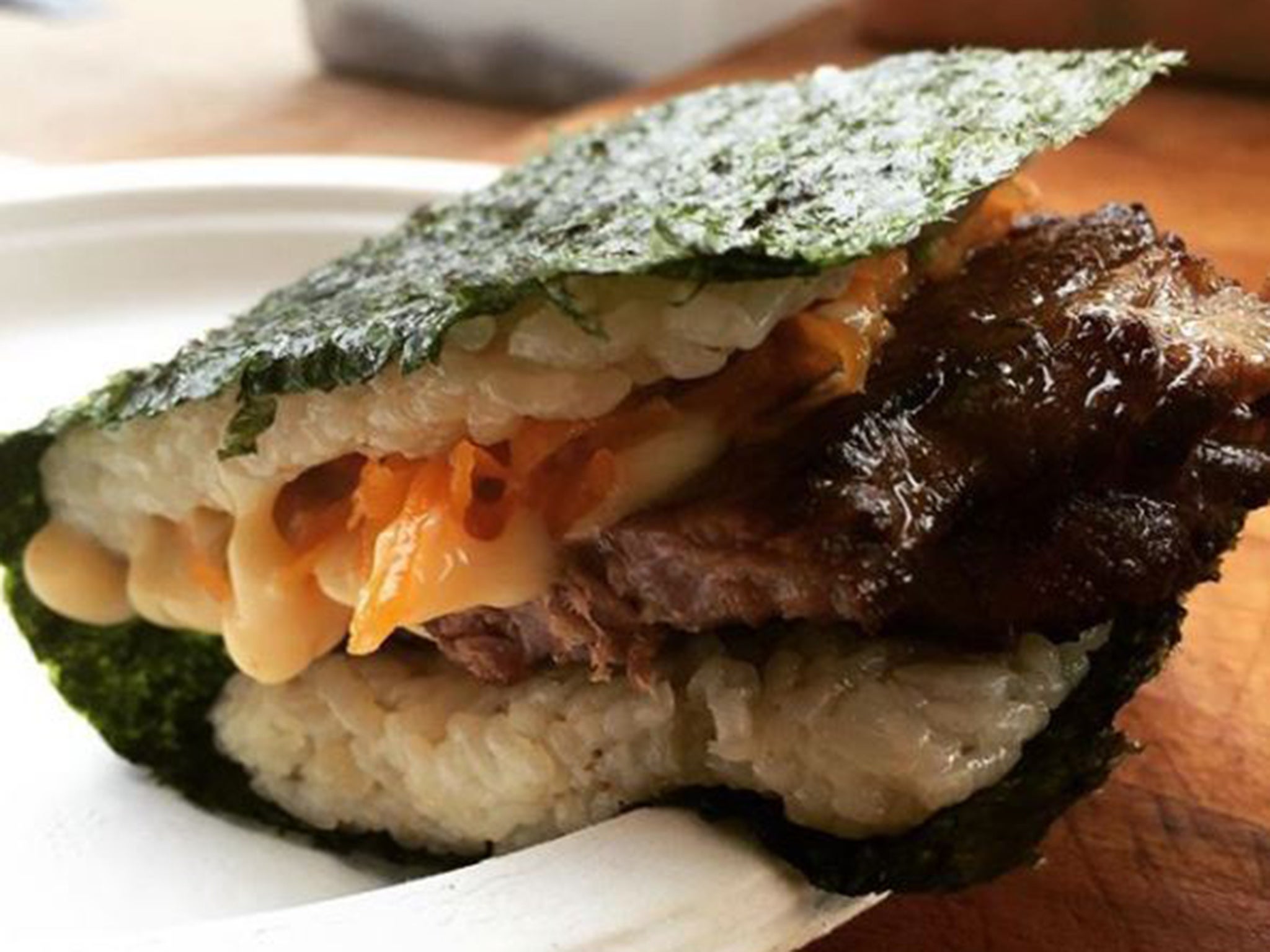 In fact, rice is grown on every continent except Antarctica. Notably, it's not grown in Britain which may be one reason it doesn't feature in our cooking as it does in rice growing countries. "So much of Thai culture is built around rice farming and eating," says Plunkett-Hogge.
"Arguably, it's through rice agriculture that the peoples who became Thai settled the central plains in the first place. That gives them an inbuilt reverence for it. Rice doesn't grow in Britain, so we don't have the same connection to it. It becomes just another ingredient."
But is that changing? Zijun Meng and Ana Goncalves hope so. They originally launched TA TA Eatery in London's Druid Street market, selling three different rice bowls and then created a "ricewich" – a rice sandwich with nori on the outside and grilled short ribs inside. "Rice plays a big part in Portuguese and Chinese cuisine (Goncalves is originally from Portugal while Meng is from China)."
"We didn't know the type of food we were going to do when we started TA TA Eatery. Each of us wrote down the foods we love and rice appeared on both of our lists." They acknowledge that rice is typically seen in England as a carb to soak up liquid but they're keen to show its versatility with dishes like a puffed rice dessert, toasted rice-infused dashi and a toasted rice-flavoured oil.
For their next two-day pop up they'll include a sake-glazed Iberian pork rice bowl and toasted rice ice cream.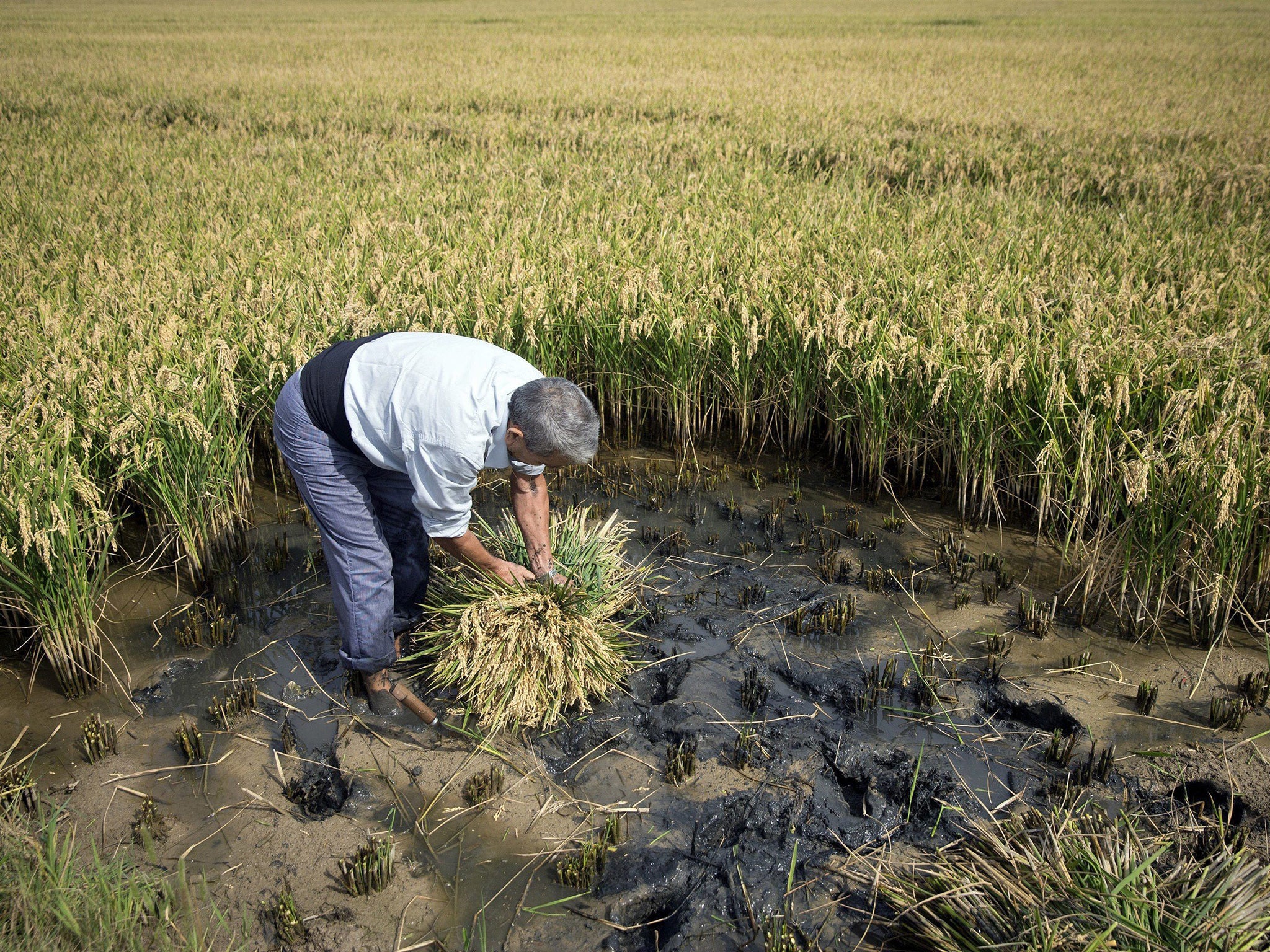 For chef Marcia Barrington, rice too is a key ingredient in Valencia, Spain where she spends much of her year. Rice was brought to Spain in the 10thcentury where it was – and still is – grown in Valencia. "Rice is life! Rice forms part of the Valencian identity," says Barrington.
"Everyone talks about paella, cooks paella and eats rice dishes of which there are many." While Barrington has been travelling to Spain since she was a child, she's still learning about different types of rice grown in Valencia.
"On my last trip I had a chat with a seller friend in the central market and she recommended I try the Valencian Albufera rice. It's a blend of the Senia and Bomba varieties. It cooks really quickly within 20 minutes, holds stock well and has great flavour."
For Plunkett-Hogge in Thailand, the variety that's caught her eye is one called Sangyod. It only grows in a few places in Thailand and thrives on brackish, salty water.
And it's water of course that's key to rice. With rice consumption growing, there is increased demand on farmers to produce more, but climate change means some areas get too much rain while others are facing drought conditions.
And while rice loves water it dies if completely submerged for too long, a problem for low lying areas subject to flooding due to rising sea levels.
IRRI points to a report by the International Food Policy Research Institute (IFPRI) forecasting that rice prices could increase by between 32-37 per cent by 2050 due to climate change with a drop in production of almost 15 per cent in both South Asia and Sub-Saharan Africa. Work is being done to manage water usage, to create seed varieties better suited to handle climate change, and to control flooding – but will it be enough?
It's a major cause for concern, Khan feels. "As with all farming, climate change and international trade rules are the biggest factors facing the future of rice farming and supply.
In Iran for example, it is cheaper to buy imported rice from China or India than locally produced rice. Promoting food sovereignty for farmers is central for the health of our planet and local economies all over the world."
And it's small farmers who grow much of the world's rice. Their livelihoods – their very lives – depend on finding ways to protect their crops while meeting our insatiable hunger for rice.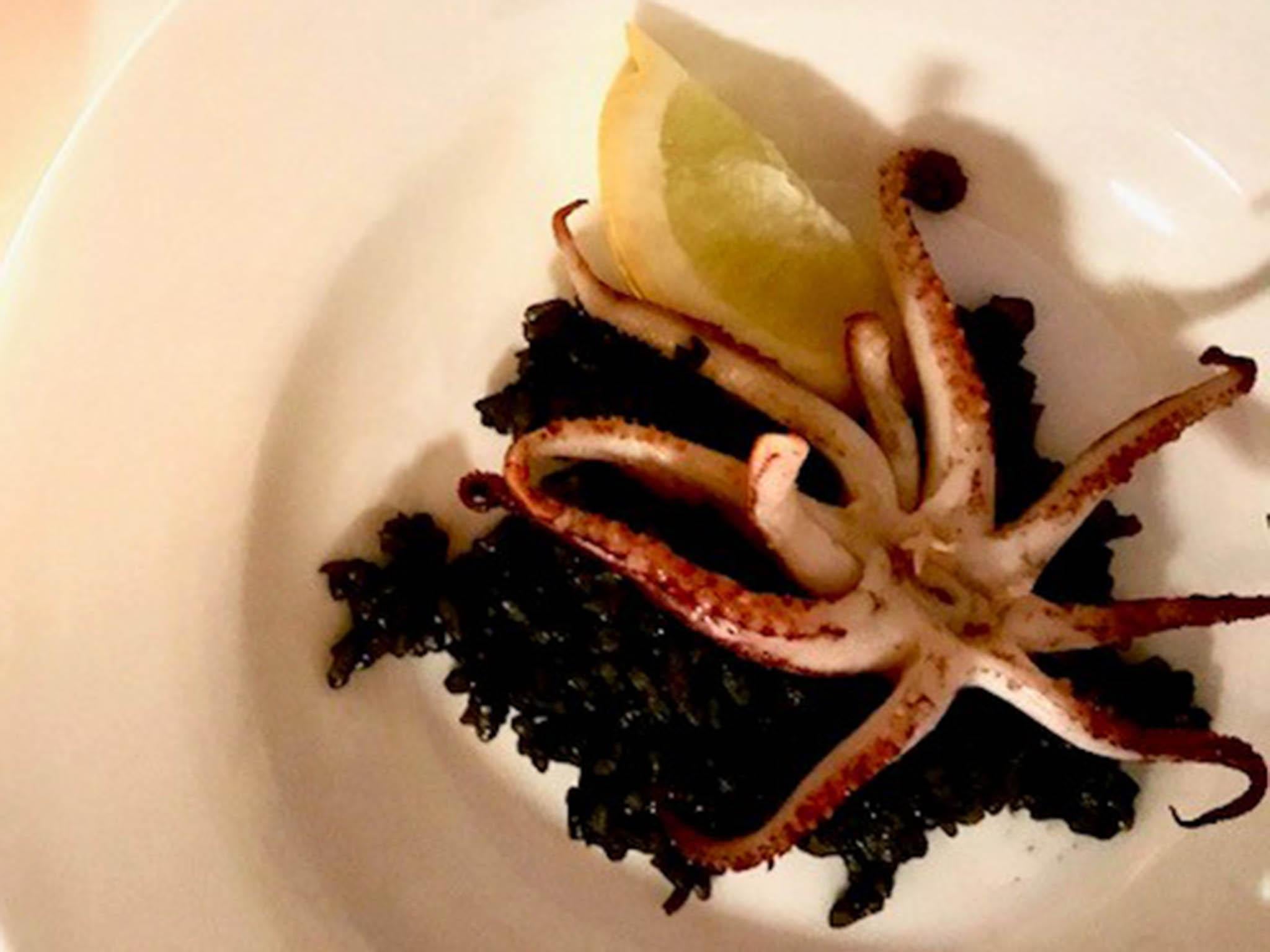 Arroz negro con calamares black rice with squid
Serves 2
Spanish 'black rice' is a typical dish in Valencia as well as other parts of Spain. It is super easy to make and tastes sensational. My recipe serves 2 yet is very easy to increase for 4 or 6 guests. I allow 100g of rice and 1 whole, cleaned squid per person with tentacles. For the rice, I have used a newly found albufera variety from Valencia that I discovered in the Mercat Central. Yet the more familiar bomba or calasparra rice will work well and are easy to find outside of Spain. In terms of the rice to liquid ratio, I always have 3 times stock volume to rice simmering on the hob. I find that a 2:1 ratio of fish stock to rice is never quite enough for the fat little round rice grains used for this type of dish. Be generous.
1 x paella pan (28-30cm) or equivalent
Olive oil approx. 90ml/6 tablespoons
1 small onion, fine diced
3 small cloves of garlic, crushed
200g redondo, (round) short Spanish rice (bomba, calasparra)
1 glass of dry white wine
4 sachets of squid ink (available from fishmongers)
600ml fresh fish stock (available from fishmongers)
2 whole, cleaned squid with tentacles in tact (Ask your fishmonger to clean) Squid tubes cut into 2-3inch pieces and scored diagonally, taking care not to score all the way through
1 whole Spanish or un-waxed lemon cut into quarters
Heat approx. 60ml/4tablespoons of olive oil in a paella pan if you have one, or similar. Add the finely diced onion and cook gently until soft. Add the crushed garlic and cook until you smell its aroma, roughly about 3 minutes or so.
Add the rice and gently combine. With the heat on medium, add the white wine, stir into the rice allowing it to reduce and burn off the alcohol.
Meanwhile pour your stock into a saucepan and gently heat ready to start adding to the rice. You will note that I am using a 3:1 ratio of fish stock to rice. I prefer to have extra to hand as I find the rice always takes more than double its volume of liquid. So for 200g of bomba, calasparra, or round short Spanish rice, I have 600ml of fresh fish stock on the go.
I like the rice to be quite black and therefore add 2 sachets of squid ink per person. So, next, gently squeeze 4 sachets of squid ink into the rice along with a ladle of warm stock.
Gently combine everything together to colour the rice. I then add the stock in maybe 3 or so additions shaking the paellera gently and stirring just a little until cooked through. Always taste for doneness. You want the rice to be soft all the way through the grain.
You can at this point add a little salt if required. Yet I find that the rice has lots of flavour and very little seasoning is needed, especially if you have used a good quality fish stock. Turn the rice off when cooked and allow it to rest for 5 minutes while you finish the squid. Heat a small frying pan to hot then add the remaining 30ml olive. Add the squid and cook until the flesh becomes opaque and begins to curl up. This should be super quick! Remove and set aside.
To serve, place the squid on top of the rice. If you like, sprinkle the squid with a dusting of Spanish sweet smoked pimentón. There are two varieties of pimentón, and I can say, hand on heart, that the picante is very picante indeed. Have some good quality lemon wedges to hand also, very much needed for squeezing over the rice. Finally, please, please resist the English temptation to hurl parsley over this dish. It is really not very pleasant to eat and unnecessary. Instead, enjoy the rice with a fresh aioli perhaps a little open textured bread; accompanied by a chilled glass of Alboriño, Verdejo or good Spanish dry white.
SOURCE: INDEPENDENT