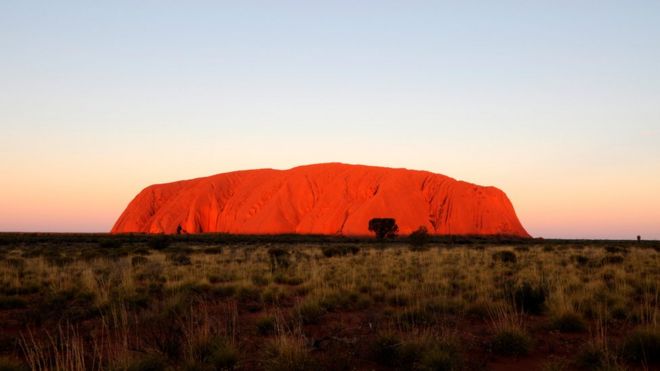 A Japanese tourist has died while climbing Uluru in central Australia, authorities have said.
The man, 76, collapsed about halfway up the rock on Tuesday and could not be revived, according to police. His death is not being treated as suspicious.
Since the 1950s at least 37 people have died on the climb, which will be banned from October 2019.
Aboriginal Australians have long asked visitors not to scale the giant monolith because it is a sacred site.
Living place
The Japanese tourist was attempting to ascend one of the steepest parts of the rock when he collapsed and lost consciousness, local police were quoted by ABC News as saying.
He was flown by helicopter to a nearby medical centre, where he was pronounced dead.
Vincent Forrester, of the Anangu community – the traditional owners of the land – expressed sadness at his death, saying: "Please say sorry to the Japanese people there, they've lost one of their own."
More than 250,000 people visit the landmark, formerly known as Ayers Rock, each year.
Tourists who visit are strongly urged not to climb it for cultural, spiritual and environmental reasons, and numbers doing so have dropped significantly in recent years.
Last year, the board of the Uluru-Kata Tjuta National Park voted unanimously to ban the climb, which will come into effect next year.
To the Anangu, Uluru is a living place, with paintings and markings of their ancestors everywhere. The community feels a deep sense of responsibility for the safety of visitors there.
But there are safety reasons for the ban too. Uluru is 348m (1,142ft) high, and the climb is very steep and can be slippery. Temperatures in the area can also reach 47C (116F) in the summer.
Every year park rangers are rescuing people with broken bones, and suffering from heat exhaustion and extreme dehydration, the attraction's website says.