By Dr Paul John,mazipauljohn@gmail.com,08083658038
While listening to the Radio Nigeria's network news at 4pm on Saturday, 26th May 2018 , there was a reportage on the court order, compelling the striking JOHESU workers to return to work within 24 hours . JOHESU leaders accepted that they were properly served at 17:39 hours on Friday, 25th May 2018 and that they had called for an emergency meeting on Sunday and Monday, 27 and 28th May 2018.
Meanwhile,the court order says that the ongoing strike should be called off within 24 hours but JOHESU in their insubordination decided not to obey that court order.
The Minister of Health that JOHESU members are ignorantly and mischievously calling for his sack
If they were properly served on Friday as they claimed, that means as they failed to call off the strike on or before 17:39 hours the next day then contempt of court has been established. I thank God that the plaintiff that initiated the suit that resulted in the court order has filed another suit against JOHESU for contempt of court. JOHESU cannot claim to have filed an appeal on 21st May 2018 when they had not been properly served by the court bailiff. Gullible Nigerians out there are free to believe the propaganda being carried by JOHESU members against the doctors.
The same disobedience and chaotic situation they brought to our health sector is what they are about replicating in our temple of justice .They are about dragging the name of our judiciary to the mud .I have severally heard them call the court order a kangaroo court order ,the same way they insult our honourable minister of health by calling him minister of doctors. Their own democracy does not work when the verdict is against them. They have succeeded in raising every worker in the health sector against the doctors and they want to do same in our judiciary.
During their strike,they will lock up government facilities and physically abuse any medical doctor who attempts to save the lives of his patients. They are about setting a bad precedent that will be an everlasting mockery to our judicial system where a convict will file a suit challenging the jurisdiction of the court after being convicted .To  them,S.6(1) of the Nigeria's constitution does not work as the judicial powers of the federation are vested in their leaders and not in the court . If the court will allow them get away with this impunity then there is no moral standing for Nigeria to have prisoners or convicts.
Circular to Chairmen Governing Boards & CMDsMDs
The root cause of the crisis in the health sector is disobedience by members of JOHESU .They give a lot of plausible reasons to ensure they disobey doctors as they are currently doing with an order from a court of competent Jurisdiction .At least Nigerians can see for themselves how a court order is immaterial to them ;JOHESU members are only answerable to their leaders who issue directives to them and not to medical doctors in the health sector or any law court in Nigeria . That is what we see on daily basis in the health sector , JOHESU had before the receipt of this Court Order filed Court Processes in the National Industrial Court and the Court of Appeal on May 21, 2018, challenging the locus standi of the NGO and the jurisdiction of the court to entertain the suit.
It is a total mockery of justice if JOHESU files an appeal to challenge the jurisdiction of a court of competent jurisdiction that same JOHESU has used severally to sue medical doctors in the health sector.
Jurisdiction means Power or right of a legal or political agency to exercise its authority over a person, subject matter, or territory. Jurisdiction over a person relates to the authority to try him or her as a defendant. Jurisdiction over a subject matter relates to authority derived from the country's constitution or laws to consider a particular case. Jurisdiction over a territory relates to the geographic area over which a court has the authority to decide cases. Concurrent jurisdiction exists where two courts have simultaneous responsibility for the same case.
The National Industrial Court of Nigeria also known as NICN is a court empowered to adjudicate trade disputes, labour practices, matters related to the Factories Act, Trade Disputes Act, Trade Unions Act, Workmen's Compensations Act and appeals from the Industrial Arbitration Panel.
Jurisdiction is a fundamental and bedrock of any judicial proceedings. Accordingly, the Black's Law Dictionary defines 'jurisdiction' as "government's general power to exercise authority over all persons and things within its territory". Within the context of judicial proceedings, 'jurisdiction' has been defined to mean 'a court's power to decide a case or issue a decree'. It follows that before a court of law entertains any matter brought before it for adjudication, it must ensure that it possesses the jurisdiction to sit over the matter, failing which the proceedings no matter how well conducted amount to nullity. Procedurally, jurisdiction of court does not exist in vacuum. For this reason, court's authority or jurisdiction is a product of constitution or other specific statutes.
Of course, no court of law can assume Jurisdiction without being statutorily empowered to do so. In Nigeria, the jurisdiction of the NICN is a product of several enactments. For instance, before the enactment of the NICA, 2006 and the Constitution of the Federal Republic of Nigeria (Third Alteration) Amendment Act, 2010, various sections of the Trade Dispute Act such as sections 14, 15, 16, 17, 18 and 20 vested power on the Minister of labour and productivity or any aggrieved party to refer labour disputes to the NICN either for outright adjudication or for the interpretation of arbitral award.
Similarly, by virtue of sections 7 and 8 of the Trade Union Act, where the Registrar of Trade cancels registration of a Trade Union, which registration is in existence on the date specified in the notice of cancellation, any official or member of the Trade Union may within thirty days thereof appeal to the appropriate court to make appropriate order on the purported cancellation. The phrase 'appropriate court' in the above sections is defined, in section 54 of the Trade Union Act, to mean 'the Industrial Arbitration Panel or the National Industrial Court as the case may be'.
The above was the position in Nigeria before the enactment of the NICA, 2006 and the amendment to the Constitution of Nigeria in 2010. Section 7 of the NICA, 2006 conferred on the NICN exclusive jurisdiction to adjudicate civil causes and matters relating to labour, industrial trade union and industrial relations and environment and conditions of work, health, safety and welfare of labour and matter incidental thereto amongst others. These provisions in the most inordinate and over bloated manner were reinforced and strengthened by section 254C (1) of the Constitution (Third Alteration) Amendment Act, 2010. Journal of Law, Policy and Globalization.
Although, the NICN is still a court of coordinate jurisdiction with other superior courts of record in its sphere of authority like the Federal High Court, the State High Court and the High Court of Federal Capital Territory, Abuja. However, by virtue of section 254C (1), its jurisdiction is exclusive to it and cannot be concurrently exercised or shared among the other High Courts in the same pedestal of authority or power.
Reason for this assertion is found in the definition of the phrase 'exclusive jurisdiction' in the Black's Law Dictionary, where it is defined to mean 'a court's power to adjudicate an action or class of actions to the exclusion of all other courts'.
Premised on the foregoing, the decisions of the Supreme Court of Nigeria in the cases of Attorney General, Oyo State v. National Labour Congress (supra) and National Union of Electricity Employer & Other v. Bureau of Public Enterprises (2010) 7 NWLR (Pt. 194) 538), which limited the jurisdiction of the NICN and placed it at par with the jurisdictions of the Federal High Court, the State High Court and the High Court of Federal Capital Territory, Abuja have ceased to have validity of law. The combined effects of section 7 of the NICA, 2006 and section 254C (1) of the Constitution (Third Alteration) Amendment Act, 2010 are that the present jurisdiction of NICN is exclusive to it and cannot be shared with other courts.
The National Industrial Court shall have and exercise jurisdiction to the exclusion of any other court in civil causes and matters.
(A). Relating to or connected with any labour, employment, trade unions, industrial relations and matters arising from workplace, the conditions of service,  including health, safety, welfare of labour, employee, worker and matters incidental thereto or connected therewith;
(B). Relating to, connected with or arising from Factories Act, Trade Disputes Act, Trade Unions Act, Labour Act, Employees' Compensation Act or any other Act or Law relating to labour, employment, Industrial relations, workplace or any other enactment replacing the Acts or Laws;
(C). Relating to or connected with the grant of any order restraining any person or body from taking part in  any strike, lock-out or any industrial action, or any conduct in contemplation or in furtherance of a strike, lock-out or any industrial action and matters Connected therewith or related thereto;
(D). Relating to or connected with any dispute over the interpretation and application of the provisions of  Chapter IV of this Constitution as it relates to any employment, labour, industrial relations, trade Unionism, employer's association or any other matter which the Court has jurisdiction to hear and determine;
(E). Relating to or connected with any dispute arising from national minimum wage for the Federation or any part thereof and matters connected therewith or arising there from;
(F). Relating to or connected with unfair labour practice or international best practices in labour, employment and industrial relation matters;
(G). Relating to or connected with any dispute arising from discrimination or sexual harassment at workplace;
(H). Relating to, connected with or pertaining to the application or interpretation of international labour standards;
(I). Connected with or related to child labour, child abuse, human trafficking or any matter connected therewith or related thereto;
(J). Relating to the determination of any question as to the interpretation and application of any-
(I). Collective agreement;
(II). Award or order made by an arbitral tribunal in respect of a trade dispute or a trade union dispute;
(III). Award or judgment of the Court;
(IV). Term of settlement of any trade dispute;
(V). Trade union dispute or employment dispute as may be recorded in a memorandum of settlement;
(VI). Trade union constitution, the constitution of an association of employers or any association relating to Journal of Law, Policy and Globalization employment, labour, industrial relations or work place;
(VII). Dispute relating to or connected with any personnel matter arising from any free trade zone in the Federation or any part thereof;
(K). Relating to or connected with disputes arising from payment or nonpayment of salaries, wages, Pensions, gratuities, allowances, benefits and any  other entitlement of any employee, worker, Political or public office holder, judicial officer or any civil or public servant in any part of the Federation and matters incidental thereto;
(L). Relating to-
(I). Appeals from the decisions of the Registrar of Trade Unions, or matters relating thereto or connected therewith;
(II). Appeals from the decisions or recommendations of any administrative body or commission of enquiry, arising from or connected with employment, labour, trade unions or industrial relations; and
(III). Such other jurisdiction, civil or criminal and whether to the exclusion of any other court or not, as may be conferred upon it by an Act of the National
Assembly;
(M). Relating to or connected with the registration of collective agreements.
Undoubtedly, labour and industrial related disputes are serious issues in any nation. Labour dispute has Staggering effects on both the social and economy sectors of a country resulting in low productivity, unemployment, wastage of human resources and many other problems. To avert this, countries, the word over, have advocated for expeditious resolution of labour dispute before it goes out of hand. Rising to the occasion, the Nigeria Government, in the year 2006, after several years of confusion and problems associated with the jurisdictions of the National Industrial Court of Nigeria came out with statutory regulation on the matter.
It is a total affront to our judicial system for JOHESU to file an appeal when they had not been served .My knowledge of the legal system is that a specific number of  days must pass before an appeal is filed . It is a great insult to not only the plaintiff  but also all Nigerians and the extant laws for JOHESU to file an appeal challenging the locus standi of the Foundation which has been fighting for the rights of Nigerians.It may interest these legally ignorant JOHESU members that S.46(1) of the Nigerian constitution( as amended) states that : Any person (Organisation) who alleges that any provision of chapter 4 of the Nigeria's constitution has been,is being,is likely to be contravened in any state (anywhere) may apply to a High court in that state(anywhere) for redress.
I am sure that JOHESU is now aware that NICN is at the status of a  High court. NICN is legally and statutorily set up to settle this JOHESU-like matter. It may also interest them to know that subsection 2 of S.46 of same constitution empowers the High court to issue orders,writs,directions et cetera for the purpose of enforcing or securing the enforcement of any right to which the person(organisation) who makes the application may be entitled under chapter 4 of the constitution.
Let us see how JOHESU leaders will denigrate the temple of our justice and get away with it, with their frivolous appeal as late legal guru,Justice Chukwudifu Oputa(Jsc) clearly warned that we should not sacrifice justice on the altar of technicalities of the law. How can we claim to be a sovereign nation when ordinary organisations like JOHESU will refuse to obey an order from a court of competent jurisdiction ?
As that was not enough,one of their leaders boasted in one of their social media platforms thus:
JOHESU FORUM "NATIONAL".JOHESU STRIKE UPDATE .
Venue: AYIBA WABA HOUSE ABJ.28/05/2018.
The meeting just concluded;All the state chairmen and secretaries from the 36 state of the federation, the various state chairmen and secretaries of all the unions , all the unit chairmen and secretaries of all the federal health institution that made up JOHESU were in attendance.
PREAMBLE: All the members of JOHESU who have kept faith in this struggle were commended and reassured that the success is in view,and that is either now or we would remain a slaves(sic) in Nigeria health sector even in phase of court injunction.The case of appeal by JOHESU in respect to the purported court injunction would be coming up on Wednesday 30th May, 2018
RESOLUTIONS;- Other members of JOHESU in a voice vote reaffirmed their commitment to the struggles, that it is either now or never.-the congress resolved that our strike would not be suspended despite their kangaroo court order.-And if for a demand of one's right in Nigeria canled (sic)our leaders to prison then the Nigeria prisons should be ready to accommodate all the JOHESU members nation wide.- curses were unanimously raised(sic) on any members who would betray the struggle for any reason.
In conclusion; our hopes were strongly renewed that however the meeting between our national leaders and the leaders of the Senate headed byDr Bukorla Saraki end, the stand remained that not until our agreement is honoured,the strike wouldn't be called off.
Nrs Anselem,Ag.sec johesu.fmc yenagoa
Imagine the impunity and disrespect to the laid down rules ,calling an order by a court of competent jurisdiction "a kangaroo court order" and in daring the government that should JOHESU leaders be arrested they will use their numbers to compromise our prisons. This is the highest challenge an organisation can throw to the sovereignty of a state . No organisation should be above the law,no matter how highly placed.
A doctor will issue an instruction to a JOHESU member in the health sector in the course of patient's care but the JOHESUmember will not obey it because he is answerable to their leaders and not to the doctor forgetting that technically speaking ,our employers in the health sector are the patients .The patients first employed the doctors who then went  ahead to employ allied health workers to assist the doctors in performing their duties. They equally want to become consultants . We await the chaos that will cause if now they are not yet consultants they oppose all instructions given by doctors ,tell me what it will be when they crown themselves as consultants .
Does it concern our legislators even if the health sector boils ,is there any of their relatives that patronizes Nigerian hospitals ? They are free to pass all laws while the NUC will issue more 'D' programmes like DNutrition,Dgatemen,D-what ever.What do you expect in a country where children of top officers of our NUC are in foreign universities?
THE ORIGIN OF THIS RABID HATRED FOR DOCTORS
The truth is that if  not for divine providence, I would have ended up as member of JOHESU and God knows that I would have been worse than the present JOHESU leaders. I would have been attacking doctors not only in words but also spiritually and physically as they are currently doing .
I always like telling my story in situations like this. My time of gaining admission in the university was not like now there is Post-UTME test.I gained admission into a paramedical course and in first year I developed animosity against all medical students .Every medical student was my self-acclaimed enemy, if they greeted me I would say that they wanted to show off  and if they did not greet me I would say that was how they were arrogant and insulting . If a medical student laughed near me I would say he was laughing at me even when the fellow had nothing to do with me or aware of my existence in that environment  .
This nonsense continued until one day we were in a function in Onitsha ,I introduced myself as a medical student without knowing there was a 'real' medical student from same school in the occasion. The rest as they say is now history .After that incident I asked myself a pertinent question that turned out to be what the biochemists call 'rate limiting step in a reaction'. I asked myself if I would want to continue with such fake life from that age . Why fight people that do not know that you exist, why declare war where war ought not to have existed? Today, NMA says this and tomorrow NMA says that.
They are currently calling Prof Isaac Adewole ,"the minister of Medical doctors", but they are bragging having a meeting with the Senate President and it seems as if they have equally forgotten that the Senate president  is also a medical doctor. What has the minister of health done to them? He only insisted that the right thing should be done at all times, that is where he offended JOHESU. So if  my worker goes on strike and his demand is that he wants to share my wife with me ,I should grant his request so that he does not call for my sack?
Dr Saraki intervenes in the ongoing JOHESU strike
For those Nigerians who are calling on the federal government to grant the demands of JOHESU leaders, will they agree to grant the requests of their workers whose demand is how to sleep with the employers'daughters? JOHESU demands salary parity with doctors but they have failed to show us anywhere in the world where their colleagues earn same salaries with doctors or are their "international best practices" not relevant in this inordinate demand ? If their demands were genuine why can't they demand that pharmacists and others that spent five years in the university should be on the same salary with the RN/RM nurses that spent about three years whose certificates are less than OND/NCE? Why can't they show us a pilot scheme with the cleaners, security men, morticians, generators operators receiving same salaries as pharmacists,radiographers,accountants ,nurses et cetera?
It would have been acceptable if they had convinced us on why  laboratory technicians should have same salaries with  Medical laboratory scientists or why both the pharmacists and the pharmacy technicians should be on a par in terms of salaries. Why must  RN/RM nurses not be on same salary level  with their Bsc colleagues? Why should optometrists who call themselves 'doctors' and spent 6 years in the university not earn higher than pharmacists ,radiographers et cetera who spent 5 years in the university?
Why should an accountant in the health sector earn higher than their counterparts in other sectors ,what occupational risks do they face that their counterparts in other sectors do not face? The nurse currently run three shifts in our hospitals and they want to have same salary structure as professionals who run one shift? That is what we call greed and the biblical story of Gehazi tells us about the likely consequences.
How ungrateful JOHESU leaders 'thanked' doctors that saved the lives of their colleagues involved in a road accident.
Their  first reaction was to deny the victims involved in the accident the same way the originators of JOHESU will soon deny other component associations after using them to achieve their inordinate demands. At least it is on record that JOHESU has denied these accident victims at the point the victims need JOHESU the most ,tomorrow the denial will shift to another profession within JOHESU. The events of George Orwell's Animal  Farm will soon be replicated in our health sector ,The Napoleon(the medical laboratory scientists who are currently fighting the pathologists) will use Snowball and other animals in the manor farm to purse Mr Jones out of the farm and after that their extant laws will change from "all animals are equal" to something like "all animals are equal but some are more equal than others."
It is a matter of time the accountants,administrative workers ,clerical workers,porters,generator operators et cetera will soon be denied. The principle of use them and dump them will soon be applied.
My colleagues in Irrua Specialist Teaching Hospital (ISTH) informed me of the multiple casualties in their Accident & Emergency (A & E) Unit recently. Our colleagues over there defied all provocations and saw the JOHESU members as their patients. Before then, JOHESU members had locked up all hospital stores believing that ,that was the only way their inordinate demands would be granted. The Chairman, Medical Advisory Committee ( CMAC) of the center realizing that the victims were someone else's fathers, mothers, aunties, uncles, wives, husbands et cetera  ordered that all stores be broken into in order to save the lives of the 19 victims that were part of the strike ,aimed at paralyzing our hospitals .
JOHESU, AHPA Chairman Mr Godwin Okara, seated second right; Mrs Florence Ekpebor, JOHESU National Secretary, addressing newsmen on behalf of the union on Saturday May 26, 2018 in Abuja
The doctors at the centre mobilized all their members via different social media platforms to come and attend to the victims. Within couple of minutes Medical and Dental Consultant Association of Nigeria ( MDCAN ) in the centre mobilized their members and the hospital was filled with consultants from different specialties. The Association of Resident Doctors (ARD) in the centre mobilized their members using different social media platforms and through calls and text messages for them to come and help their colleagues on call that Saturday, their members responded as expected.
Doctors continue to render selfless services while JOHESU members locked up all facilities in the hospitals and their members in the Account section refused to prepare the salaries of the working doctors .
However, after stabilizing the patients without the presence of any staff of JOHESU extraction,one ungrateful JOHESU leader with rabid hatred for doctors in the health sector posted on his Facebook page :
There was an accident of a group transiting to Auchi from Benin. They were rushed to our A/E at Irrua.
There were no deaths, but minor bruises and cuts. But some have mandibular distortions and other degrees of fractures that may need some days in hospital and scans to be done. But they are all stable.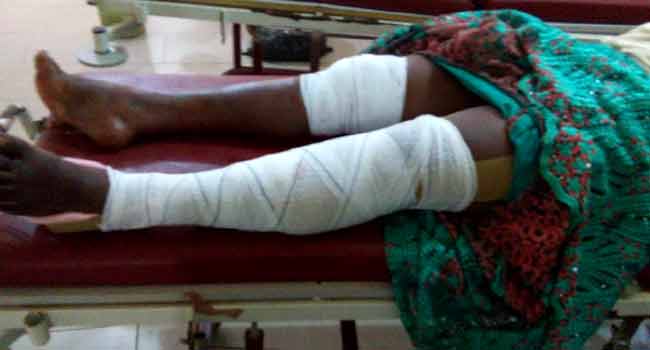 One of the accident victims now denied by JOHESU
We swung into action trying to call some of our nurses, and store officers and union members to go help out, we didn't really ask who they were initially, and we didn't want to argue while accident victims suffer. They are all there now helping with the treatment of the injured as it was very clear that the doctors were helpless at a point. I have   called the HOD of general stores to help with treatment items. The HOD of Pharmacy has been on ground helping with pharmaceuticals, the Nurses have arrived as their chairperson mandated and we have the situation under great control.
After putting the anxiety to rest, we decided to really find out who the victims were and found out they are cleaners in UBTH not JOHESU members as being erroneously circulated in social media against the striking unions. A call to SSA chair, UBTH confirmed they are cleaners in UBTH & all outsourced staff and belong to no union in UBTH.
Well, we are happy to relax our strike a bit for the injured and we are happy to prove that treatments are difficult without JOHESU members. We are also happy to prove that we have a largely humanitarian mindset.
That's the summary of what happened. ………..JOHESU  ISTH
On reading this crap, the ARD president ISTH responded immediately :
Why play politics with people's lives? Did u even enter d emergency room? You drove the same official car you have parked at home since the commencement of the JOHESU strike despite being a management staff to the hospital, after we finished stabilizing the patients. You met the CMAC  and  I outside the A&E and you left us there without entering the A&E. Now you are here posting that patients with compound fractures and varying degrees of dislocations and severe avulsion injuries have minor cuts?
Are you this wicked? Did any member of JOHESU step his or her foot into the A&E all through the 2 hours we spent resuscitating and stabilizing these patients? Are you aware the lock to the caravan which you people locked and went away with was broken just to have access to materials to use in saving these patients' lives?  Do you know we did not bother going to the pharmacy to look for any drug? It was because even before you proceeded on your strike the hospital pharmacy was already moribund and the pharmaceutical store outside the hospital already took over.
We simply stepped outside the hospital to get the drugs and fluids we used. Do you know we used ordinary hands to suture those bleeding wounds as we couldn't gain access to any suturing pack locked up by you people? Are you aware half of these patients require formal surgeries as soon as they are stable enough? Are you the ones to operate on them? Do you know d full meaning of ORIF my brother? Were you or any member of your striking union interviewed by any of the TV stations that visited the A & E when the patients were brought in? Are you aware NTA & ITV captured me while saving the lives of these patients and interviewed me thereafter?
Are you equally aware channels news crew was in touch with me all through this process? Did you by chance see any of their cameras sir? I haven't really said much. Only asking pertinent questions.. …
Esteem Tagar… 
ARD President, ISTH
CHANNELS TV REPORTS…
At Least 19 JOHESU Members Injured In Road Accident
Some members of the University of Benin Teaching Hospital (UBTH) chapter of the Joint Health Sector Union (JOHESU) were involved in an accident along the Benin-Auchi Road on Saturday.
accident.
Nineteen out of the 40 health workers were said to have been severely injured and rushed to the Otibho Okhai Hospital in Irrua, Edo State, where they were being treated by doctors and consultants on duty.
The victims were said to be on their way to a function in Auchi when the accident occurred.
The President of the Association of Resident Doctors at the Irrua Specialist Teaching Hospital, Dr Esteem Tagar, who confirmed the incident to Channels Television, said no death was recorded in the accident.
Meanwhile, the health sector union has refused to call off its industrial action which is now in its fourth week.
The union had, however, suspended the strike in Lagos, Kano and Yobe states, where the governments were said to have complied with the demand for salary adjustment.
CAN AN IGNORAMUS LEAD INTELLIGENTSIA?
One of the demands of this amorphous union is to wrest power from doctors. Imagine a supposed leader in the health sector who calls compound fracture and mandibular dislocations minor injuries during the recent incident at Irrua Specialist Hospital.  He went ahead to ignorantly post that 'There were no deaths, but minor bruises and cuts. But some have mandibular distortions and other degrees of fractures that may need some days in hospital and scans to be done.'' To his half baked brain since the victims did not die at the scene of the  accident there would be no death thereafter. Does that fellow know anything about blunt abdominal injuries? Does he know anything about inflammatory responses to such traumas?
A colleague once told me that a missionary hospital where he did his primary assignment during NYSC that was a matron that superintended over the hospital .A day came when the doctor was annoyed with the hospital's laboratory for not delivering all the medical tests he had requested. The head of the laboratory unit told the doctor that they had no petri dish for the tests and that he had severally told the matron to get some for the laboratory but all to no avail. The doctor went straight to the matron to know why she refused to grant the request from the laboratory.
The matron got annoyed with the laboratory claiming that she had bought the dish immediately the request was made. On further investigation, the doctor discovered that the matron really bought a dish that the corper would be using to eat without knowing that petri dish is used in the laboratory for some medical tests like culture. These are the people that want to come and rule us , becoming CMDs and MDs of our hospitals and also the Minister of Health of our dear country .One of my friends a JOHESU member was treating his own mother for 'cough and rashes on the breast'  for many years but when I visited him ,I suspected a breast cancer and metastasis to the lungs and I told him to take his mother to the hospital.
He perfunctorily accepted my instruction and later it was discovered to be metastasis to the lungs from advanced Breast cancer. If they can do such to their relatives ,tell me the fate of the common patients out there who erroneously and naively call them doctors . Today all they want is DNursing,DMLS,DPharm,Daccounting,DRadiography,Dmorticians  et cetera.
When I hear where people claim that Nigerian doctors mismanaged their medical  cases,I would ask the relatives to provide evidence for such claims and that I would like to know the identities of the doctors that managed the cases  .Most cases ,it would be JOHESU members parading themselves as doctors . Imagine a supposed leader of JOHESU in Irrua does not know what is triad and he believes that once there was no death at the scene of the accident then there would be no death thereafter . I will ask him how long does it take for Haemothorax  or Epidural haematoma to develop from such traumatic events? They want to rule us with such brains so that the doctor will use a whole day to explain a simple request to the MD or the CMD before granting the request that will help in patients'care ? If federal government will accept, hire my services ,within few weeks JOHESU will be legally buried. These guys cash in on the lacunae in the system to perpetrate this rubbish.
I trust the our incorruptible men of the judiciary in the appellate courts as they are aware that NICN is the only court with Original (not appellate) jurisdiction to hear labour related matters. It is a known fact to all law students that S.240 of our constitution gives  appellate jurisdiction to our  Court of  Appeal to hear and determine appeals from our lower courts . Section 239 is clear on the original jurisdiction of the Court of Appeal thus:
(1) Subject to the provisions of this Constitution, the Court of Appeal shall, to the exclusion of any other court of Law in Nigeria, have original jurisdiction to hear and determine any question as to whether –
(a) any person has been validity elected to the office of President or Vice-President under this Constitution; or
(b) the term of office of the President or Vice-President has ceased; or
(c) the office of President or Vice-President has become vacant.
(2) In the hearing and determine of an election petition under paragraph (a) of subsection (1) of this section, the Court of Appeal shall be duly constituted if it consists of at least three Justices of the Court Appeal.
Meanwhile,Original jurisdiction of almost all matters is vested in our lower ( High,Magistrate,Customary,Sharia et cetera) courts not our appellate courts. Just like the Court of Appeal ,Original jurisdiction of the supreme court is limited and can only be exercised in a matter between a state government and the federal government  as contained in Sections 232 .Section 233 of the Nigeria's constitution (as amended)  empowers our Supreme Court to hear and decide all appeals arising from the Court of Appeal.
The essence of this little legal discourse is for us not to waste time with the appeal JOHESU has filed in the appeal court challenging the jurisdiction of NICN and the legal standi of the NGO that initiated the court order that they have refused to obey. We need not waste tax payers money on a case that is the blind can see the end as they once wasted our time in the health sector for the interpretation of the phrase "Medically Qualified".
ANOTHER JOHESU LEADER BOASTS IN HIS RECENT POST
(Copied from  one of the JOHESU platforms on 28/05/18)…..
Great Comrades, I salute you all in the name of the struggle. Right now at the National Head quarters for an emergency meeting with National offers. Last night, it went on this way: finally, the so – called weapon of Government – Court injunction compelling JOHESU to suspend Strike, was served on our leadership Friday 25/5/18.
Following this, they were invited by the DSS & several intimidations(sic) in the face of reality was poured on our innocent Leaders who are selflessly defending the Voice of the voiceless.
That they should suspend the strike now or be arrested & cast into Jail for Court contempt(sic). They were told to obey first the Court order even at the back drop of Government's continued disregard to several, & same NIC rulings in favour of JOHESU.
That their meeting with the Sanate(sic) President saw the later(sic) pleading with our leaders to suspend with out any clear evidence of commitment to resolve our issues. That the two ministers finally admited(sic) & submitted that, Buhari is the only person that can attend to our case; but they can not allow our leaders see him unless they suspend the on going(sic) strike first. But one of the toughest questions asked was that; does the President not see any group of Nigerians while agitation is on?
Ours is not the worst case scenario after all. We have cases of civil unrest in almost all parts of this Country where physical killings is(sic) involved & mr(sic) president visited those places himself in his bid to resolve the issues, not to talk of our own that is a mere agitation for a better welfare in order to boost productivity.
As it is now, there is no genuine & committed offer yet from the Government side, since this strike commenced. It was said at the meeting that the two parent bodies of Union(sic) in Nigeria, NLC, TUC are fully in the picture of what is happening & are also meeting with JOHESU leadership even up to yesterday evening before our meeting started. This is the peak of the struggle & all of us are faced with the biggest trial. Should we be scared of arrest, Jail & suspend the Strike, we have shown & proved to them that, they have power more than us & we can't try this next time.
If this Country were the type that it's(sic) citizens, especially those at the helm of affairs, are respecter of ' the rule of law' JOHESU would have emulated & obey(sic) the Court order, But they are not!! Therefore, suspension would not just weaken Unionism but may put an end to it. Besides, we have not achieved any thing yet from this strike that they are telling us to just suspend. How ever(sic), JOHESU lawyers have immediately filed an appeal to that Court order, so that it would not count on us. We are taking decisions Today & will(sic) be communicated to you people. Remain blessed.