Nigeria is really a funny country, we shout when we are supposed to be silent; while we prefer to be silent when we are supposed to shout. It is unarguably that our present and past politicians have frustrated many youths of this country but for the youths to go after those that frustrated their lives, they rather turn round to make life unbearable for their fellow citizens who are subjected to the same frustration by the politicians. What explanations could one give for the Nyanya motor park bomb blast that targeted beggars and those who could barely feed three square meals per day? We leave those causing our problems to attack fellow victims .Is that not madness?
Dr Florence Onua , a Family medicine consultant with the Rivers state owned Braithwaite Memorial Specialist Hospital(BMSH) ,was the recent victim of this inhumanity of man to fellow man. How much is the take home salary of an average Nigerian doctor? Where were the kidnappers all this while doctors embarked on strike over pay increment? I think I need to use this opportunity to state clearly that doctors are equally hit by the economic recession Nigeria is passing through but due to the fact that doctors treat patients from different social classes, we tend to dress in order to reach out to all patients irrespective of the differences in their social classes hence our corporate appearances are no way commensurate with our financial statuses,they are what the Marketing specialists call 'Packaging'.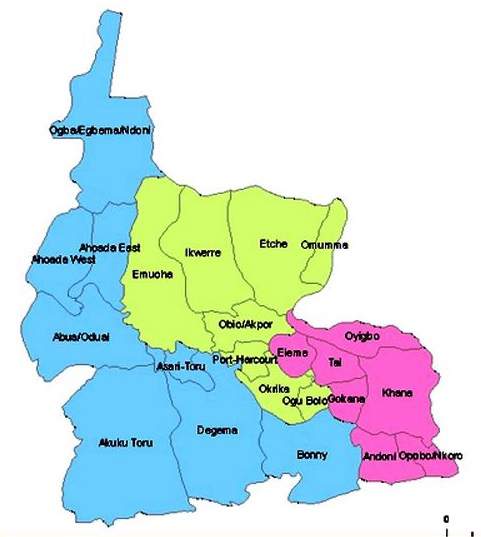 Political Map of Rivers state
Rising from an Emergency General Meeting (EGM) by all members of Nigeria Medical  Association (NMA) Rivers state chapter, held on Monday,08/05/17, at NMA House Port Harcourt, doctors in the state have resolved that there would be a protest march round the city of Port Harcourt today being Wednesday,10/05/17 to register our displeasure over the senseless murder of our colleague, Dr (Mrs)Florence Onua by men of the underworld. It is disheartening how she would be murdered by fellow victims of Nigeria's Political frustrations while leaving the politicians who brought all the frustrations scot free.
Her painful death calls for an overhaul of Nigeria's security system. If not that I live in Port Harcourt, I will definitely not believe that kidnapping of a person is possible, taking cognizance of how our security agents regularly harass innocent road users. There are roadblocks everywhere but when it is time to kidnap a person, all the road blocks will be dismantled. Another doctor's car snatched at 7 pm along Rumuola area of Port Harcourt last year is yet to be recovered and our security agents are still deceiving us that they are on top of the situation. Those meant to protect the lives of the common citizens on our roads are busy collecting between N50 and N100 from commercial bus and taxi drivers while making life difficult for private car owners who are not ready to part with their hard earned resources. Our security system stinks. If a serving Kwara state Commissioner of Police could be murdered in his own state of Enugu in 2013, then I wonder what would be the lots of the common citizens.
It takes a minimum of 24 years of serious academic pursuits to produce a medical consultant, Six years in each of Primary and Secondary schools; Six years in Medical School; one year each for the compulsory Internship programme and National Youth Service Scheme; a minimum of four years for the Residency training, even when some programmes may take as long as nine years. And kidnappers would just murder such a fellow like that, while our security agents would keep on assuring us that they are on top of the situation. I believe that medical profession is the most marginalised profession in the world because how many years of legal practice, are required before making a lawyer a judge of our High court? Such a judge is immediately given a police orderly and well furnished house among other benefits. The judge is not liable for any decision he takes in the course of his duties, hence a judge can pass a judgement and the appellate court(s) will upturn it and nobody will insult or sue the judge but let a doctor misdiagnose a patient, the whole world will know how incompetent not only the doctor but also all Nigerian doctors are. In some situations that doctor may lose his certificate.
Remember the judge has all the time in the world to pass his judgement while the doctor has a few seconds to make his diagnosis. I don't want to hear that why doctors are liable and hence punished for every mistake they make in the course of their duty is because lives are involved. People with such myopic and primitive opinion should also know that lives are also involved when judges pass wrong judgements. If a suspect is wrongly sentenced to death by hanging and such convict does not have money to appeal the judgement, is life not also involved? Only a threat against a judicial officer will make his colleagues not to sit in their various courts but kidnap or even murder a doctor, his/her colleagues will be busy consulting in their clinics, operating in their theatres, and running their ward-rounds as if nothing happened. The case of Dr Stella Ameyo Adadevoh who saved Nigeria from Ebola in 2014 is still fresh in our memory. The Press will never report that, of course, but let doctors embark on a strike due to government's insensitivity to the plights of the doctors ,the journalists will tell the world how Boko Haram or ISIS kills in thousands while the doctors' strike kills in Million.
Gunmen
Nobody has summoned the courage to ask our ailing president why he travels abroad for medical treatments when he is the one preaching that we should patronise locally made goods and services. Are there no medical experts to handle his ailment in Nigeria? Mr President is aware that many of our hospitals are still using the medical equipment that Lord Lugard imported and installed  hence no sane leader would gamble with his life with such anachronistic equipment. The change they promised us in 2015 may most likely not  involve equipping our hospitals to standard so that all our politicians can have confidence in our health system again.
Dr Leelonu Nwibubasa, former Secretary of NMA Rivers state, wrote an elegy addressed to our fallen colleague as thus:
IN MEMORY OF DR (MRS) FLORENCE ONUA.
Again sorrow sweeps over my soul
As the story is told
Rivers Doctors howl
At the murder of her own
One of our finest is fallen
Just like a mere feather
To be born in a country
Is now big a crime
A country where crime fare
Has legitimately replaced trade fare
Where the law runs against life
And the leaders care less about the led
Where democracy embraces criminality
And celebration of power above people
What a shame!
In a country of fame
We have become lame
And now no one to blame
My Sister rest, rest
For that could be the best
I hope the rest can brace
That we may win the race
And end this disgrace
Upon the black race
Adieu Sister.
The Wednesday protest march will take off from Maxillofacial Hospital Garrison at 7 am .All participants is to wear black tops. Let us go and tell the world that the ugly incidents of late 2014 and early 2015 have started again.
Credit: Dr Paul John ; Port Harcourt,mazipauljohn@gmail.com,08083658038